Our aim is to beat the bookies.
Know how much you have to risk!!
Set what % gain you are chasing for your investment. Walk away when you reach your goals.
Be responsible. Make money!! Have fun!!
WALLBANGER
WINNER 14/11/2019
WINNER 10/11/2019
UNPLACED 31/10/2019
WINNER 25/10/2019
UNPLACED 20/10/2019
UNPLACED 16/10/2019
WINNER 10/10/2019
WINNER 27/09/2019
WINNER 20/09/2019
ONES TO WATCH By George
96 YEARS OLD on the 17/01/2020 and held my Greyhound trainers license for over 50 years & Greyhounds racing is where the odds are with you! 5 HORSE RACING SELECTIONS 5 GREYHOUND RACING SELECTIONS EVERY SATURDAY!
Regards George
AVAILABLE FOR DOWNLOAD EVERY SATURDAY morning FROM 10:30 AM (AEST)
AU$9.50
RESULTS
01/18/2020
WENTWORTH PARK
RACE 2 NUMBER 8 JUST TERMS UNPLACED
RACE 4 NUMBER 1 TRUE DETECTIVE 2ND@$1.70
RACE 5 NUMBER 8 GOOD ODDS HARADA UNPLACED
RACE 6 NUMBER 7 OAKVILLE BEAUTY 1ST@$12.20
RACE 7 NUMBER 2 KING KERATOS 1ST@$2.90
RACE 8 NUMBER 1 FERAL FRANKY 1ST@$2.10
ROSEHILL
RACE 3 NUMBER 1 LASHES 1ST@$2.10
RACE 5 NUMBER 3 BIG PARADE 2ND@$1.50
EAGLE FARM
RACE 7 NUMBER 3 KALIC UNPLACED
FLEMINGTON
RACE 2 NUMBER 6 RED HEELER 1ST@$2.60
RACE 4 NUMBER 1 BLOSSOM ON SNOW UNPLACED
FOLLOW THE MONEY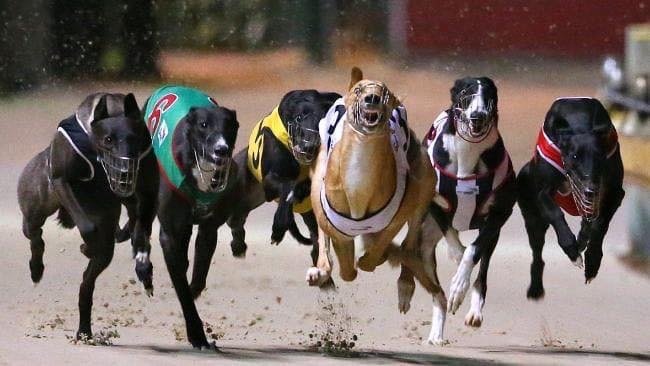 BEST 5 GREYHOUND SELECTIONS EVERY THURSDAY NIGHT.
Available for download every Thursday from 11AM(AEST)
AU$4.99
GREYHOUNDS ARE REAL ATHLETES AND GREAT PETS!!
RESULTS
03/10/2019
ANGLE PARK
RACE 3 NUMBER 8 2ND
RACE 4 NUMBER 7 1ST
RACE 5 NUMBER 7 1ST
RACE 6 NUMBER 8 U/P
RACE 7 NUMBER 3 1ST
09/010/2020
SANDOWN
CAISHEN 1ST @ $2.00
MEPUNGA DANIEL 2ND @ $3.20
INSUPERABLE 3RD $1.75
IMMINENT REALITY 1ST $4.10
23/01/2020
GEELONG
RACE 4 NUMBER 1 2ND@$2.20
RACE 5 NUMBER 8 UNPLACED
RACE 6 NUMBER 6 1ST@$3.00
RACE 8 NUMBER 8 1ST@$2.90
RACE 10 NUMBER 2 UNPLACED
06/02/2020
ANGLE PARK
RACE 3 NUMBER 7 MISTER GETTY U/P
RACE 4 NUMBER 2 TWO TIMES TWICE 1ST
RACE 6 NUMBER 8 TATACHILLA 3RD
RACE 9 NUMBER 1 BOOM DOWN 1ST
06/02/2020
SANDOWN
RACE 3 NUMBER 2 BRONSKI BEAT 1ST
RACE 4 NUMBER 8 JIM ZARR DASHIAN 1ST
23/04/2020
R6 WARRNAMBOOL ZIPPING ZARBO 1ST
R2 DAPTO RITZA DONALD 4TH
R8 WARRNAMBOOL TIGGERLONG TONK 1ST
R4 ALBION PARK VELOCITY BETTINA 1ST
R8 ALBION PARK OH MICKEY 1ST
---
Premium Membership
FEDERAL ELLE@$21
WALLBANGER@$4.50
WALLBANGER@$1.56
SAUSEDGE@$8.30
TRUE SELF@$2.50
MIAMI BOUND@$4.20
PANCHO@$3.10
TRUE DETECTIVE@$3.20
SWEET AS EMM@$3.46
FLASH MULCHER@$2.90
FERNANDO BLASTER@$1.52
HOOKED ON SCOTCH@$2.40
WALLBANGER@$2.00
HERE COMES JOE@$4.20
HOOKED ON SCOTCH@$3.80
BLACK OPIUM@$3.60
WALLBANGER@$1.90
NANGAR KASH@$10.50
Crocket@$5.10
---
Members start the year with the luxury odds of $14 in early markets.
Silver Chief Final won in brilliant fashion by Simon Told Helen on Saturday night.
---
MEMBERS NEXT INVESTMENT JANUARY 10
Feral Franky – Each Way @ 14.02 – 3rd
SENNACHIE Each Way@ 12 – 1st
Good Odds Herada Each Way@ 12 – 2nd
Gold Bullion 2020 (All In) – Albion Park
MEMBERS NEXT INVESTMENT JANUARY 11
Magic Millions 2yo Classic
EVERY ROSE – Each Way @ 12 / 4 – Unplaced
Gotta Kiss – Each Way @ 14.00 / 4.25 – Unplaced
Magic Millions 3yo Guineas
ALLIGATOR BLOOD @ 3.25 – 1st
R5 RANDWICK JANUARY 11
MAN OF PEACE
@$50 on Friday
@$26 Saturday morning
Started @$9.50
WinnersAreGrinners™
ANOTHER GREAT START FOR MEMBERS FEBRUARY
SAPPHIRE COAST BEGA CUP
MONEGAL@$5.50
NOVAC DJOKOVIC@$2.50
MEMBER RESULTS SATURDAY 15/02/2020
FLEMINGTON RACE 3 NUMBER 1 MILDRED 3rd @$2.20
RANDWICK RACE 7 NUMBER 3 FLIT 1st @$11.70 $2.50
RACE 8 NUMBER 8 ALIZEE 1st @$3.60 $1.50
RACE 9 NUMBER 5 POHUTUKAWA 3rd @$2.90
MEMBER RESULTS MONDAY 17/02/2020
LAUNCESTON cup RACE 8 number 8. Caishen 1st @$2.22
MEMBER RESULTS SATURDAY 21/03/2020
R7 SHEPPARTON: 8 MANILA KNIGHT 1st
R8 SHEPPARTON: HARD STYLE RICO 1st
MEMBER RESULTS SUNDAY 22/03/2020
R4 HEALESVILLE: ASTON DYNAMO 1st
R12 SALE: ZAMBORA SMOKEY 1st
R8 SANDOWN PARK: TAUWITCHERE 2nd
R7 MUSWELLBROOK: FRITZ'S FACTOR 4th
R7 MUSWELLBROOK: MR WONG 5th
R7 MUSWELLBROOK: TWO BIG FARI 1st
R9 SANDOWN PARK: WEBLEC SMOKE 1st
R10 RICHMOND: DOUBLE ONE MAE 2nd
R11 WAGGA: TANAMI EXPRESS 1st
MEMBER RESULTS SUNDAY 29/03/2020
R4 SALE
BAD GUY 2ND
OMEGA GRINGO 3RD
R5 SALE: TAKEN 1ST
R8 SALE: BLACK OPIUM 1ST
R10 SALE: ZAMBORA SMOKEY 1ST
R2 SANDOWN: PARK IMMERSION 1ST
MEMBER PRIVATE RESULTS SUNDAY 05/04/2020
R3 SALE: WILD CARD 1ST
R9 SALE: PRIVATE 2ND
R9 SALE: OMEGA GRINGO 4TH
R8 BENDIGO: ZIPPING ZARBO 1ST
R7 GUNDAGAI CUP: ZOFFANY'S LAD 2ND
R7 GUNDAGAI CUP: GENTLEMAN MAX 3RD
R5 RICHMOND: ZIPPING ZEEK 1ST
R6 RICHMOND: CRUX 1ST
R6 RICHMOND: ROCK SOLID 2ND
R6 RICHMOND: ESTHER'S DIVA 3RD
R9 RICHMOND: STRAIGHT SHIFT 1ST
PREMIUM MEMBERS RESULTS SATURDAY 11/04/2020
Queen Elizabeth Stakes 2020: Danon Premium 2ND
R8 CAULFIELD: BAM'S ON FIRE 1ST
R8 THE MEADOWS: IMMEDIATE 2ND
R11 THE MEADOWS: ZIPPING HAMISH 1ST
PREMIUM MEMBERS RESULTS SUNDAY 12/04/2020
R1 SALE: DO GOOD DAVLIN 1ST
R3 SALE: DON'T CHANGE 1ST
R4 SALE: MIDNIGHT MONARCH 1ST
R5 SALE: WILD CARD 1ST
R7 SALE: TERREN'S CLOSE 4TH
R6 BENDIGO: ATLANTIC JEWEL 4TH
R7 BENDIGO: SLINGSHOT HAMMER 3RD
R10 SALE: GOLDEN NIGHT 3RD
R8 BENDIGO: RAJASTHAN 1ST
R11 SALE: CHA CHA CHARLIE 3RD
R11 SALE: ZEMIRA MIKADO 3RD
R9 BENDIGO: ASTON DYNAMO 1ST
R3 RICHMOND: TAPPER KEEPING 3RD
R5 RICHMOND: ZIPPING JUNIOR 1ST
R6 SANDOWN PARK: AMARILLO HIGHWAY 1ST
R6 RICHMOND: ESTHER'S DIVA 2ND
R7 RICHMOND: BLUE MOON RISING 1ST
R7 RICHMOND: REALLY UNREAL 2ND
R8 RICHMOND: CRUX U/P
R8 WAGGA: TANAMI EXPRESS 3RD
PREMIUM MEMBERS RESULTS TUESDAY 21/04/2020
MULTI (5 LEGS): All Selections Win @ $12.31
WARRAGUL R27: Old School Cool Fixed Win @ $2.90
THE GARDENS R24: Blue Bronte Fixed Win @ 1.22
THE GARDENS R33: Aston Tatum Fixed Win @ 1.24
WARRAGUL R71: Squiggle Keeping Fixed Win @ 1.65
WARRAGUL R107: Zipping Walter Fixed Win @ 1.70
---
MEMBERS GET ON EARLY FOR THE 3 BIG GROUP ONES.
SATURDAY 15TH FEBRUARY
The Zoom Top 2020 (All In) – The Meadows
TORNADO TEARS MEMBERS PRICE Each Way @7.00/2.50
Current price
4.40
1.59
HERES TEARS MEMBERS PRICE Win@ 3.30
Current price
3.10
1.36
Rookie Rebel 2020 (Pre Box Draw) – The Meadows
Tauwitchere – MEMBERS PRICE Fixed Place @ 4.25
Current price
12.00
2.91
The Temlee 2020 (All In) – The Meadows
Good Odds Harada – MEMBERS PRICE Each Way @ 14.00 / 4.25
Current price
4.60
1.57
SIMON TOLD HELEN MEMBERS PRICE Win @ 4.50
Current price
2.50
1.94
---
ONLY $20 per week.
Send me a message for details.
MEMBERSHIP FORM
NO OBLIGATION!